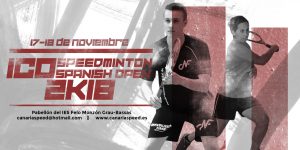 A very special weekend is coming!
Our partners of CanariaSpeed organizes the biggest crossminton international tournament in Spain: ICO Speedminton Spanish Open. At the same time we will have an stand of our videogame eCrossminton, where the assistant will be able to test it, participate in tournaments and know on first hand the crossminton.
Go to the IES Felo Monzón this weekend and enjoy of days where the sport and videogames come closer than ever with a common objective:
Enjoy crossminton on all possible ways!
If you want to sign up to the tournament and earn prices you can do it on:  https://docs.google.com/forms/d/e/1FAIpQLSfc8-r8DwGvLkU2_OhEkRKV2XJGUOzeNBRwqdm-X6x-f0KmRA/viewform
Besieds, to celebrate this great event, we have published a new teaser!
https://www.youtube.com/watch?v=8DPQKl_1vH8
We hope to see you all on Felo Monzón.
Let the speeder keeps flying!